When you're coding, there's always a font involved in displaying the text on the screen. Yet, the font that you use is an often-overlooked piece in your programming tool kit. Many operating systems and code editors come with their default monospace fonts that you may end up using.
But there are a bunch of technicalities and features to take into consideration when choosing the best font for your daily programming. That's why it's worth investigating the requirements that a programming font should fulfill to make it a perfect match for you.
In this tutorial, you'll learn:
How to spot a high-quality coding font
What characters are important when coding in Python
Which features of a programming font matter
Where to download programming fonts
How to install a font on your operating system
Throughout the tutorial, you'll consider twenty-seven hand-picked programming fonts that you can use right away. You'll take a close look at all the fonts and investigate why their particular features are important for you as a programmer. In the end, you'll be able to decide which coding fonts suit your needs best.
If you want to keep a list of the fonts for future reference, then you can get an overview PDF of all the fonts by clicking the link below:
Say Hello to Your Next Coding Font
In this tutorial, you'll take a deep dive and learn about the forms and shapes that make a quality coding font. You'll encounter significant technical details, handy features, and surprising quirks along the way.
Note: In this tutorial, you'll focus on the characteristics of fonts that are suitable for Python programming. But the fonts will work similarly in any other programming language.
You'll notice that all the images in this tutorial have a similar style. The font name is always on the left. On the right, you'll see a sample string or specific characters worth noting. To kick things off, have a look at the fonts that you'll examine in this tutorial: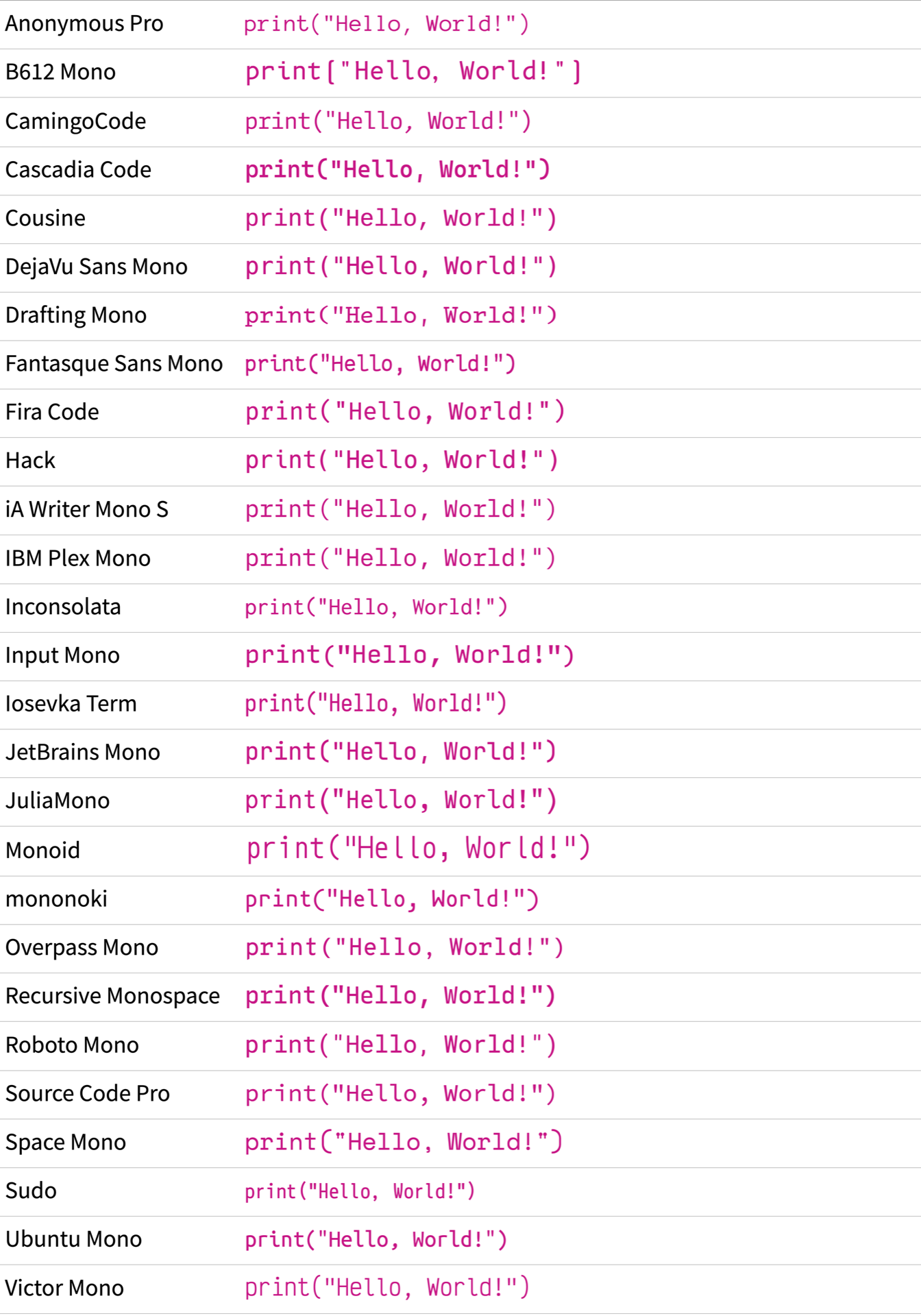 It's a good idea to open this image in another window and keep it open while you read the tutorial. For example, you can right-click the image above, select Open Image in New Window, and then drag the tab into a new window:
Having the tutorial and the fonts list side by side lets you conveniently compare certain fonts with others. You can even go a step further and print the image to annotate the fonts with your likes and dislikes.
If you're already excited to try out new fonts in your own coding editor, then you can scroll down to the get your new coding font section. There you can download all the fonts in this tutorial and load them up in your editor. That way, you can get a head start and evaluate any font with your own editor theme, preferred font size, and some familiar code.
Note: Color schemes and font sizes are very personal settings that can easily skew your evaluation of a font. That's why you won't see any larger code samples set in any font in this tutorial.
Instead, you'll see many examples that objectively focus on specific font characteristics, independently of any coding editors.
Once you try out a coding font, you'll recognize if you like or dislike it. Sometimes it's just a matter of taste. But sometimes there are reasons why one font might be a better fit for you while another isn't.
Over the next few sections, you'll get a tool set so that you can evaluate for yourself what makes a quality programming font.
Consider the Basics
Whether you just wrote your first Hello, World! script or maintain huge codebases, choosing the right programming font will be beneficial for you as a developer.
Before you dig into the characteristics of a font on a character level, there are some broader features to take into consideration. Some of them may filter out a font in your search from the get-go.
For example, a font might not be a good choice if the font doesn't support your language or if it costs money that you're not willing to invest. Another criterion could be that the font must be monospace.
In this section, you'll explore important points of comparison. That way, you'll know which fonts to include in your circle of coding fonts to consider more closely.
Look at the Shapes
Once a font fulfills your requirements regarding language support, license terms, and monospacing, it's time to have a closer look at the design of the font.
While some fonts are technical masterpieces, the visual design is what's most obvious to you as an end user. A good font is only a good font for you when it pleases your eyes and makes your code more readable.
In this section, you'll zoom in on the shapes of a font's characters. This way, you'll get a better understanding of what details to look out for when choosing the best programming font for you.
Study Common Python Syntax Symbols
Once you like the general feel of a font and have investigated critical shapes, it's important to pay attention to characters that are essential to Python's syntax.
Symbols that are relevant to the syntax of a programming language appear over and over again in your code. That's why it's a good idea to have a closer look at them.
Investigate Font Features
In the previous section, you fixed your gaze on the shapes of some characters in a font. In this section, you'll zoom out a bit and look at the visual style of a font, as well as some technical features that a programming font may contain.
Get Your New Coding Font
There are multiple places to find free programming fonts to download. When you just search for the font name of your choice, then you'll find a bunch of websites that offer the font. Some of them are trustworthy, others not.
That's why it's a good idea to download the fonts directly from the font's distributor. This will ensure not only that you download the correct fonts but also that you work with the most up-to-date version of the font.
In this section, you'll find download links to all the fonts that you explored in this tutorial. Once you pick the font of your choice, you'll also learn how to install the font on your operating system and use it in your code editor.
Downloading Your Coding Font Pick
If a font in this tutorial caught your attention, then you can click its download link in the table below. The link will lead you to the font's distribution page, where you can download the font to your computer.
And no worries if you can't pick just one. It's a great idea to download more than one font and play around with them on your system!
Here are the free fonts that you looked at in this tutorial:
Although these fonts are free to download, you may still need a license depending on a particular use case. For example, maybe you plan on using the fonts in a commercial setting.
If you want to get an overview of the fonts with more details, then you can download the bonus PDF by clicking the link below:
Installing a Font for Use
Just like with other software, installing a font is different for each operating system. However, the installation procedures for Windows, Linux, and macOS have three steps in common:
Locate the downloaded font file.
Double-click the font file.
Press the Install Font button.
Once you have the font installed, you can adjust the settings in the code editor of your choice.
With the font available on your operating system, you can go ahead and choose it as your default programming font in your coding editor. Sometimes you need to restart your code editor after you install the font. After that, you can change the font in the code editor's settings.
In most programming editors, you can change the coding font when you follow the steps below:
Go to Settings
Navigate to Editor or Text Editor
Look for the Font setting
Select your coding font
In some code editors like Visual Studio Code, you need to add the font family name in front of the font list. You can find the font family name when you open another text application where you have a Fonts list and use the exact name that the font list item shows.
Tip: Sometimes, you can define fallback fonts in your editor's settings. To make sure that the right font is actually rendered, it's a good idea to choose a different-looking font as the fallback for your font pick:
With a different-looking font as a fallback to your programming font, you'll spot right away if your font isn't loaded correctly. For example, maybe you forgot to install the font, or you made a typo in the font name.
Congratulations, with your selected coding font in your editor, you've achieved a big milestone!
Next, you can play around with the font size and different themes. Also, load up some programming projects that you're currently working on and see how the font gives your code a new face.
Conclusion
When it comes to programming, finding the perfect font can make a big difference in your overall experience of writing code. The font that you choose should be comfortable to read and easy on the eyes, so take your time and enjoy the process of finding your perfect coding font match.
Ideally, you fell in love with one particular coding font in this tutorial that you're happy to use from now on.
In this tutorial, you've learned:
How to spot a high-quality coding font
What characters are important when coding in Python
Which features of a programming font matter
Where to download programming fonts
How to install a font on your operating system
Don't worry if the font that you thought would be your next sweetheart isn't the right match in practice. Just like with shoes, it doesn't harm to try on more than one pair. In fact, experimenting with different fonts can help you discover new favorites. Don't be afraid to test out different styles, sizes, and weights until you find the one that feels just right.
If you found your perfect coding font match or if you use a coding font that isn't listed in this tutorial, then let the Real Python community know which font it is.