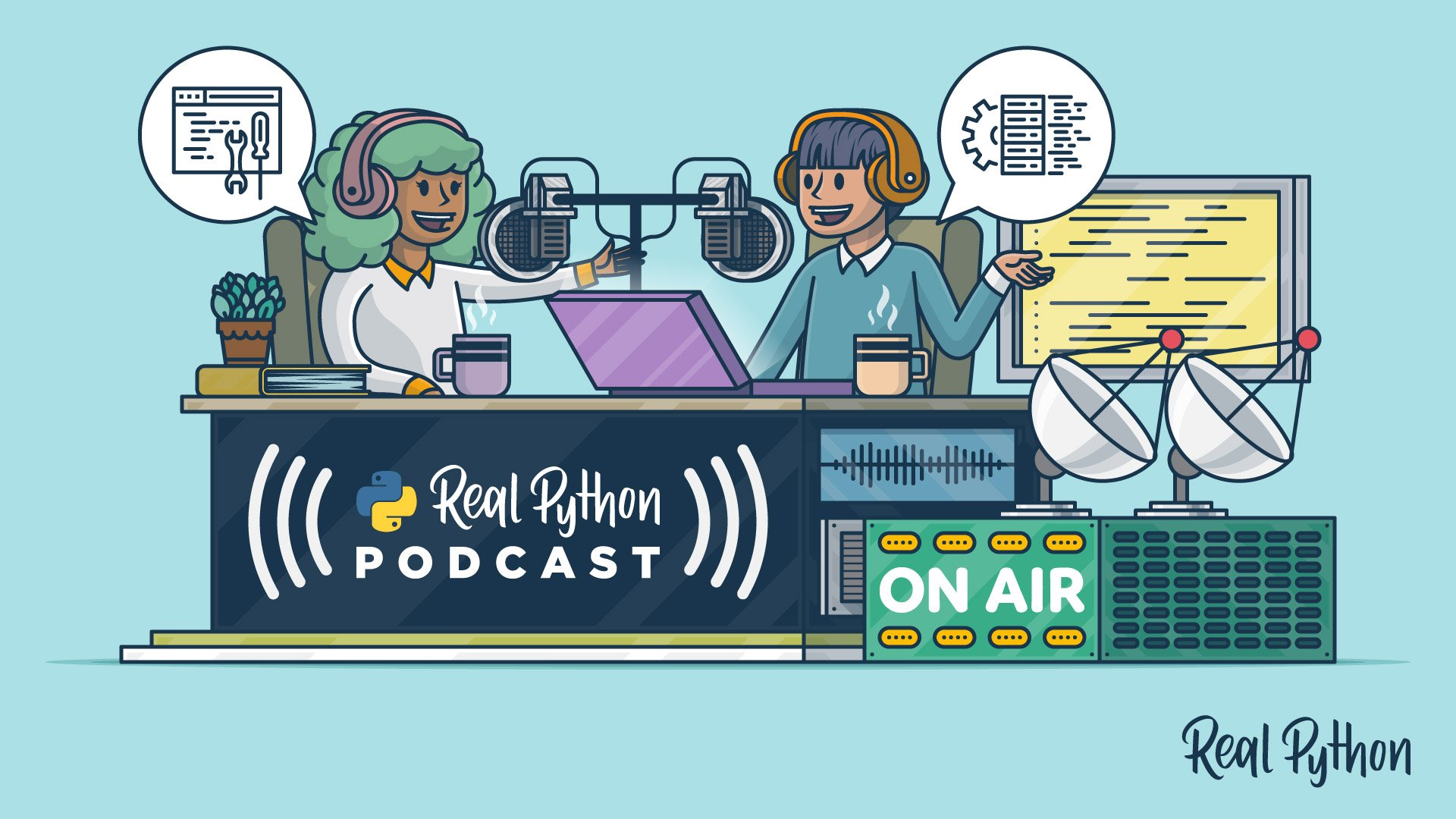 The Real Python Podcast
Python Tips, Interviews, and More
A weekly Python podcast hosted by Christopher Bailey with interviews, coding tips, and conversation with guests from the Python community.
The show covers a wide range of topics including Python programming best practices, career tips, and related software development topics.
Join us every Friday morning to hear what's new in the world of Python programming and become a more effective Pythonista.
What Listeners Are Saying
"Thanks for starting this channel! Loving Real Python for its courses, articles and exercises. I was looking for something to listen to, to hear some experiences, and keep updated and this is perfect for this. A baby Python from France!" (⭐⭐⭐⭐⭐)
— Lamia (via Apple Podcasts)
"Hello Christopher and Real Python Podcast team,
I've quickly become a regular listener of your podcast, and just wanted to drop you a quick email and say how glad I am that you've launched this podcast, and how much I appreciate your episodes.
Like you, I'm relatively new to Python. I've recently begun using it regularly at work, so the topics and the libraries you highlight have been extremely helpful to me.
A perfect example is your recent episode on Python packaging. This is something veterans are probably all familiar with, but there are a lot of confusing examples out there. I was able to listen to your episode, head over to the tutorial you were talking about, and create my first Python package, which I then shared with several other non-profits.
That's just one of many examples. But I wanted you to know that your efforts are very helpful, and very much appreciated.
Thanks and keep up the great work!"
— Bryan Hermsen (via email)
"Good interview and great job with the podcast! It is amazing how good this podcast is in such a short time. The timecodes and copious show notes and links really set it apart. Keep up the good work!"
— @DrewEcherd (via Twitter)
"Thanks for your quality contributions with Real Python podcast. Three things I particularly like about the podcast:
1. You ask quality questions.
2. Extra course/exploratory links at the bottom is crucial for me.
3. Weekly conversation is better than information overdose."
— Dheeraj Bhosale (via LinkedIn)
"The Real Python Podcast is amazing! Don't change a thing." (⭐⭐⭐⭐⭐)
— Farlearner (via Apple Podcasts)
"Listen to this Podcast. I spend most of the week using Python for work. Often, after hours of coding, I see there's a new episode of The RealPython Podcast and I think, 'I can't stand another second of thinking about Python.' After a long walk or weekend away from my desk, I finally remember these important words, 'listen to this podcast.' Christopher and his guests bring the best topics and always seem to renew my love and passion for the Python language." (⭐⭐⭐⭐⭐)
— JB M'uzuri (via Apple Podcasts)
We want to hear from you!
Do you have an idea for an episode? Do you want to share your story with us or ask Christopher a question? Send an email to podcast@realpython.com, tweet at @realpython, or leave a voicemail from the comfort of your browser.