This tutorial details how to setup a Flask application on a server running Ubuntu.
Since this process can be difficult, as there are a number of moving pieces, we'll look at this in multiple parts, starting with the most basic configuration and working our way up:
Part 1: Setting up the basic configuration
Part 2: Adding Supervisor
Part 3: Simplifying deployment with Git Hooks
Part 4: Automating with Fabric (with an example video!)
Updates:
10/28/2014: Added info on how to add a new user on Ubuntu
04/16/2015: Updated nginx configuration
---
We'll specifically be using:
Ubuntu 14.04
nginx 1.4.6
gunicorn 19.1.1
Python 2.7.8
virtualenv 1.11.4
Flask 0.10.1
Supervisor 3.0b2
Assuming you already have a VPS running an Ubuntu operating system, we need to set up a web server on top of the operating system to serve static files - like stylesheets, JavaScript files, and images - to end users. We'll use nginx as our web server. Since a web server cannot communicate directly with Flask (err Python), we'll use gunicorn to act as a medium between the server and Python/Flask.
Wait, why do we need two servers? Think if Gunicorn as the application web server that will be running behind nginx - the front facing web server. Gunicorn is WSGI compatible. It can talk to other applications that support WSGI, like Flask or Django.
Need access to a web server? Check out Digital Ocean, Linode, or Amazon EC2. Alternatively, you can use Vagrant to emulate a Linux environment. This setup was tested on both Digital Ocean and Linode.
The end goal: HTTP requests are routed from the web server to Flask, which Flask handles appropriately, and the responses are then sent right back to the web server and, finally, back to the end user. Properly implementing a Web Server Gateway Interface (WSGI) will be paramount to our success.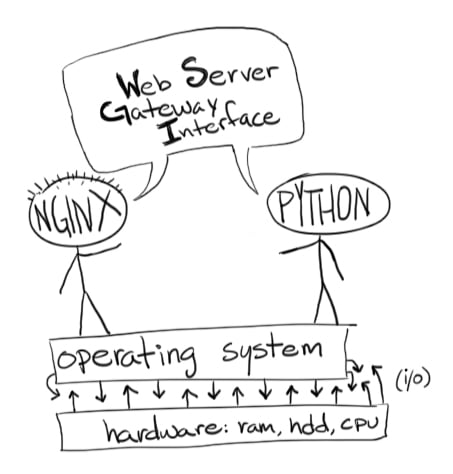 Let's get to it.