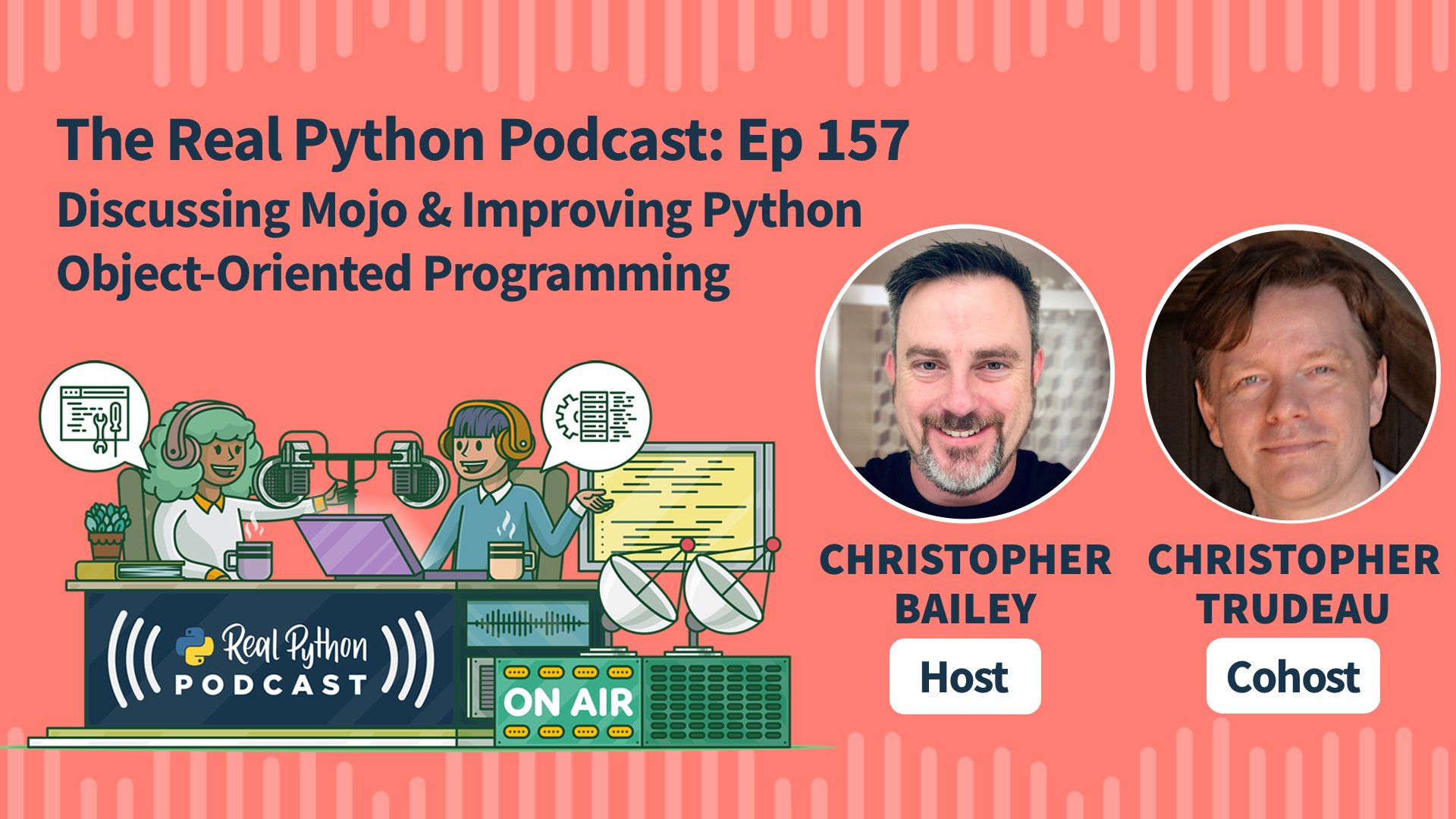 Episode 157: Discussing Mojo & Improving Python Object-Oriented Programming
May 26, 2023
54m
Would you like to speed up your Python machine-learning code dramatically? What if you only had to change a few keywords and add a couple of type hints on portions of your code? This week on the show, Christopher Trudeau is here, bringing another batch of PyCoder's Weekly articles and projects.
We discuss a new programming language named Mojo, which is a superset of Python. It aims to fix Python's performance and deployment problems. The project has many interesting ideas and a leader who has helped to shape modern compiler technology.
We also share a pair of Real Python tutorials from Leodanis Pozo Ramos about object-oriented programming in Python. The first one is a deep dive into the creation of classes. It's an excellent refresher for anyone looking to hone their OOP skills in Python.
The second tutorial covers the SOLID principles, which are five well-established standards for improving your object-oriented design. These principles guide you to create object-oriented code that is more maintainable, extensible, scalable, and testable.
We cover several other articles and projects from the Python community, including a news update, showing warnings when running Django, tracking the progress of your Python program, and a Markdown browser for your terminal.
This week's episode is brought to you by Koyeb.
Course Spotlight: Using k-Nearest Neighbors (kNN) in Python
In this video course, you'll learn all about the k-nearest neighbors (kNN) algorithm in Python, including how to implement kNN from scratch. Once you understand how kNN works, you'll use scikit-learn to facilitate your coding process.
Topics:
News:
Show Links:
Discussion:
Projects:
Additional Links:
Level Up Your Python Skills With These Courses: