As always, October was an eventful month for the Python community this year. It brought the final Python 3.11 release, a few beta versions of the next major releases of popular Python libraries, and some exciting developments in the Python community.
Here's a quick recap of the most interesting happenings from October 2022.
The Python 3.11 Release
By far, this month's most exciting event was the release of Python 3.11, overshadowing a few other interesting news items. October was chosen for the annual Python releases a few years ago, giving a stable and predictable release cycle for Python.
The release date of Python 3.11 was originally planned for October 3. Unfortunately, it was delayed due to unexpected problems that were blocking the previous release candidate about a month before. The world had to wait an additional three weeks, until October 24, to finally witness the next major Python release: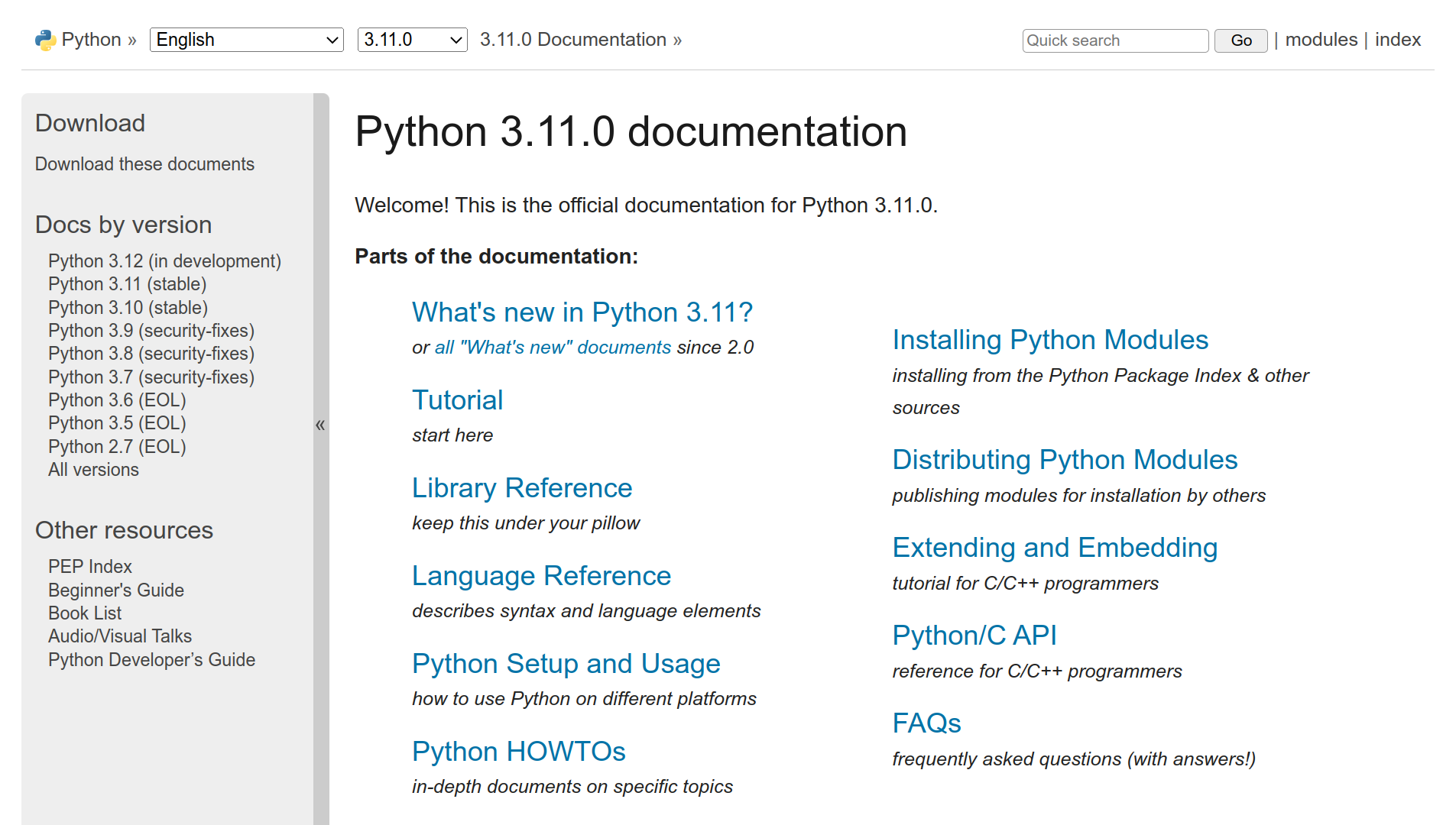 This version packs many new features and promises significant performance improvements, an effort that'll continue in future versions to achieve even better results. The What's New In Python 3.11 article gives an overview of what has changed since the previous version of the language. The Python 3.11 changelog provides more details with links to the individual GitHub issues and their corresponding code commits.
In short, these are arguably the most worthwhile new features in Python 3.11:
To dive deeper and have a hands-on experience with Python 3.11, head over to our dedicated tutorial or video course about the new features, where you can make your way through the most important language improvements with code examples.
Even though Python 3.11 has just been released, it's going to be a while before companies and cloud service providers start using it in production on a larger scale. Upgrading the runtime environment is always risky and can lead to downtime, data loss, or other unforeseen problems. That's precisely why the US army refuses to upgrade their old-school software on mission-critical equipment.
At the same time, it's worth mentioning that some major Python libraries, especially those in the data science field, began supporting Python 3.11 and tested it thoroughly before the official release. This ensures that users can make a safe switch to Python 3.11 and start taking advantage of the new language features without having to wait for their package dependencies to catch up.
What's your favorite new feature in Python 3.11?
Updates From the Python Ecosystem
The Python ecosystem keeps moving forward with new releases each month. The pytest 7.2.0 release is now available, and SQLAlchemy 2.0 has finally been released in the beta version. The NetworkX library has also released a beta version of its next major version.
pytest 7.2.0
In late October, the open-source community released a new minor release of pytest, one of the most widespread testing libraries in Python. This version brings a few quality-of-life improvements.
Most notably, pytest will no longer recognize unit tests written for nose, which used to be another popular testing library. Because its development stalled several years ago and the maintenance of the pytest-nose compatibility layer is getting more expensive as pytest evolves, the developers of pytest decided to abandon it.
As a result, you should stop using the .setup() and .teardown() methods in your class-based unit tests in pytest. While they'll continue to work under the deprecation schedule, they're no longer recommended. The setup and teardown methods native to pytest have slightly different names but otherwise should behave the same way.
Additionally, pytest will recognize an alternative to the pytest.ini configuration file, which may now be hidden on Unix-like operating systems. This means optionally starting the name of the file with a leading dot:
# .pytest.ini




[pytest]




python_functions

 

=

 

should_*



Copied!
Another noteworthy change is that the testpaths configuration option will support Unix-style pathname pattern expansion using Python's glob module:
[pytest]




testpaths

 

=




    

src/*/unit_tests




    

src/*/integration_tests




    

src/*/system_tests




    

**/tests



Copied!
The asterisk symbol (*) matches any number of characters, while a double asterisk (**) matches directories recursively. This feature can become especially handy in a large repository, known as a monorepo, which includes multiple projects that follow the same directory structure.
To learn more about this new pytest release, check out the full changelog on the official website. There are many more improvements, bug fixes, and updates that might be interesting to you.
SQLAlchemy 2.0 Beta
A preview of SQLAlchemy 2.0 was released in October, signifying a long-awaited departure from legacy interfaces and a move toward using modern Python patterns. The interest, as measured by the number of daily downloads of this new release, has exceeded expectations. A follow-up release with several bug fixes came just a week later.
For years, SQLAlchemy has been a wildly popular framework providing low-level abstractions and a high-level object-relational mapper (ORM) for moving data between Python and various relational databases in a consistent manner. At the same time, it exposes behaviors unique to particular kinds of databases. The framework helps automate repetitive SQL boilerplate statements, which are unavoidable in most applications.
The complete set of features and the architecture of SQLAlchemy 2.0 have been long available in the transitional 1.4 series, which provided a bridge between the old and the new interfaces. Anyone using the current stable release of the framework can enable the SQLAlchemy 2.0 deprecations mode to get notified about all kinds of incompatibilities and issues before making the final switch to the next generation of SQLAlchemy.
So, what are the major changes in SQLAlchemy 2.0 beta?
The first and most important change is dropping support for Python 2 along with cleaning some old cruft from the codebase, making the framework easier to maintain going forward. SQLAlchemy will only run on Python 3.7 or later and will take advantage of modern syntactic constructs like context managers for managing its resources.
Another notable improvement is the addition of an asynchronous layer on top of the classic blocking query API in SQLAlchemy. The integration with Python's async IO will enable the framework to run in asynchronous web applications, which couldn't previously benefit from SQLAlchemy unless SQLAlchemy was wrapped in a thread pool. This should also expose the framework to people who previously haven't considered it because of its blocking nature.
A new caching mechanism of the compiled SQL statements will make the code run more quickly. It'll allow for further improvements in the core engine, which weren't possible before due to limited execution time.
Last but not least, the framework will introduce new unified APIs to narrow down the alternative ways of achieving the same objective in a more verbose and explicit style of coding. The idea is that the programmer should always know what they're doing and why they're doing it instead of being isolated from the underlying SQL. Legacy interfaces, which have long been deprecated but remained in use, will be removed.
The official documentation provides detailed instructions on migrating your code to the next generation of SQLAlchemy. Remember that SQLAlchemy 2.0 is still in development and isn't ready for production, so don't take the plunge by upgrading just yet!
NetworkX 3.0 Beta
Another beta release was announced last month. NetworkX, a popular data science library for the creation and analysis of graphs and networks in Python, got a new major version. The NetworkX 3.0 Beta release is a significant undertaking that addresses years of technical debt through the careful removal of old code. As a side effect, the core of the library no longer depends on any third-party packages.
Streamlining and modernizing the library's code will lower the bar for new contributors to get involved and will improve its performance. Additionally, NetworkX 3.0 will be more tighly integrated with other popular scientific libraries, such as NumPy, Matplotlib, pandas, and SciPy. Algorithms that previously have been implemented in NetworkX will now benefit from these integrations.
Python Community Highlights
The Python community was busy last month. PyCon US 2023 is now accepting proposals, the Python Developers Survey 2022 is now open, and a new Python release manager has been appointed. In addition, Al Sweigart has released a new book.
What's Next for Python?
What's your favorite piece of Python news from October? Did we miss anything notable? Are you going to upgrade to Python 3.11, or is it still too early for you? Have you taken part in the Python Developers Survey 2022 yet? Do you plan to attend next year's PyCon US conference? Let us know in the comments!
Happy Pythoning!